What to say, Hmm. What to say.. Yup, that pretty much sums up the book for me. I think most people liked the book. Not sure if any LOVED the book but most liked it.
---
Author: Deborah Blake
Published: November 17, 2015
Pages: 280
Stars: 2 out of 5
Where to Buy:
Amazon
Barnes&Noble
Synopsis:
Since Witches came out of the broom-closet in the early 21st century, they have worked alongside humans as police officers, healers, stock traders, and more. But they aren't the only paranormal entities in our world…
Police officer and Witch Donata Santori spends her days interrogating dead witnesses by summoning their spectral forms. Normally the job is little more than taking statements and filing reports. But when she's called in on the case of a murdered art restorer, she finds herself suddenly in possession of a mystical portrait that both the human and paranormal communities would kill to get their hands on.
Unable to take on the forces hunting her alone, Donata seeks help from two unlikely and attractive allies: a reluctant shape-changer and a half-dragon art forger. But as the three of them hurry to uncover the truth about the powerful painting, Donata realizes that she's caught in the middle of not one but two wars—one for possession of the painting's secrets and one for possession of her heart…
Review:
Donata is a cop with witch powers. Although unpleasant, she is able to talk to dead victims in order to help solve crimes. Given a chance of a lifetime, Donata jumps at the possibility to prove herself to her boss and solve a simple painting heist gone wrong. But of course the painting is more than it seems and donate's life gets completely turned upside down.
The plot is somewhat slow going and at times the flow is choppy. I feel like I need to share with you that there is an annoying love triangle in this book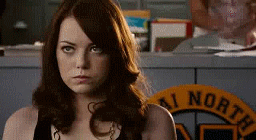 I really wish there was a disclaimer for that sort of thing. And how on earth does Donata not see that these men are seeking out her affection. I really hate characters that come off as that naive, clueless.
I'll be honest, I put the book down for a few days, a week or so, and didn't think much about it. When I finally remembered I was reading this book, I realized there had only been two more chapters to read before the book was over. I'm really not sure what this book accomplished or what the point was. Donata was practically in the same spot she started in.
My overall feelings about the book is of indifference.
I didn't love it or hate it. This was an enjoyable, okay book but not something I would invest more time into reading. The author did a lot of telling us instead of showing the reader through dialogue/action. This drives me crazy. I just couldn't really get invested.
Comment below and let me know your thoughts. Did you love the book, hate it, want to read it.. Until next time, Happy Reading 🙂